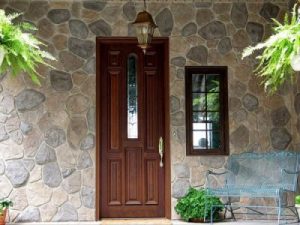 Natural stone in the facade decoration is stylish, prestigious, testifies to the good taste and solid wealth of the owner of the house. First of all, this method of facing external walls is chosen because of its undeniable advantages:
resistance to heat, cold and sudden temperature changes, to any precipitation and ultraviolet radiation;
fire resistance;
environmental friendliness;
aesthetic appearance;
durability.
What stones are used for facade decoration?
Both natural and artificial stone are used in the decoration of houses, as well as panels that imitate the surface of a natural material.
Depending on what kind of rock was chosen for finishing the facade with stone, the quality of the wall covering will differ slightly. The most commonly used are granite, limestone, sandstone, quartzite, slate, rubble stone and others…..
Read more in Russian